Donate HERE to the Madison Public Library Fundraiser!

Welcome to the Madison Public Library
We are continuing to update our website to provide you with more helpful links to services, programs,  and activities  at our library and within the Madison community. We appreciate you checking in and for supporting your local library!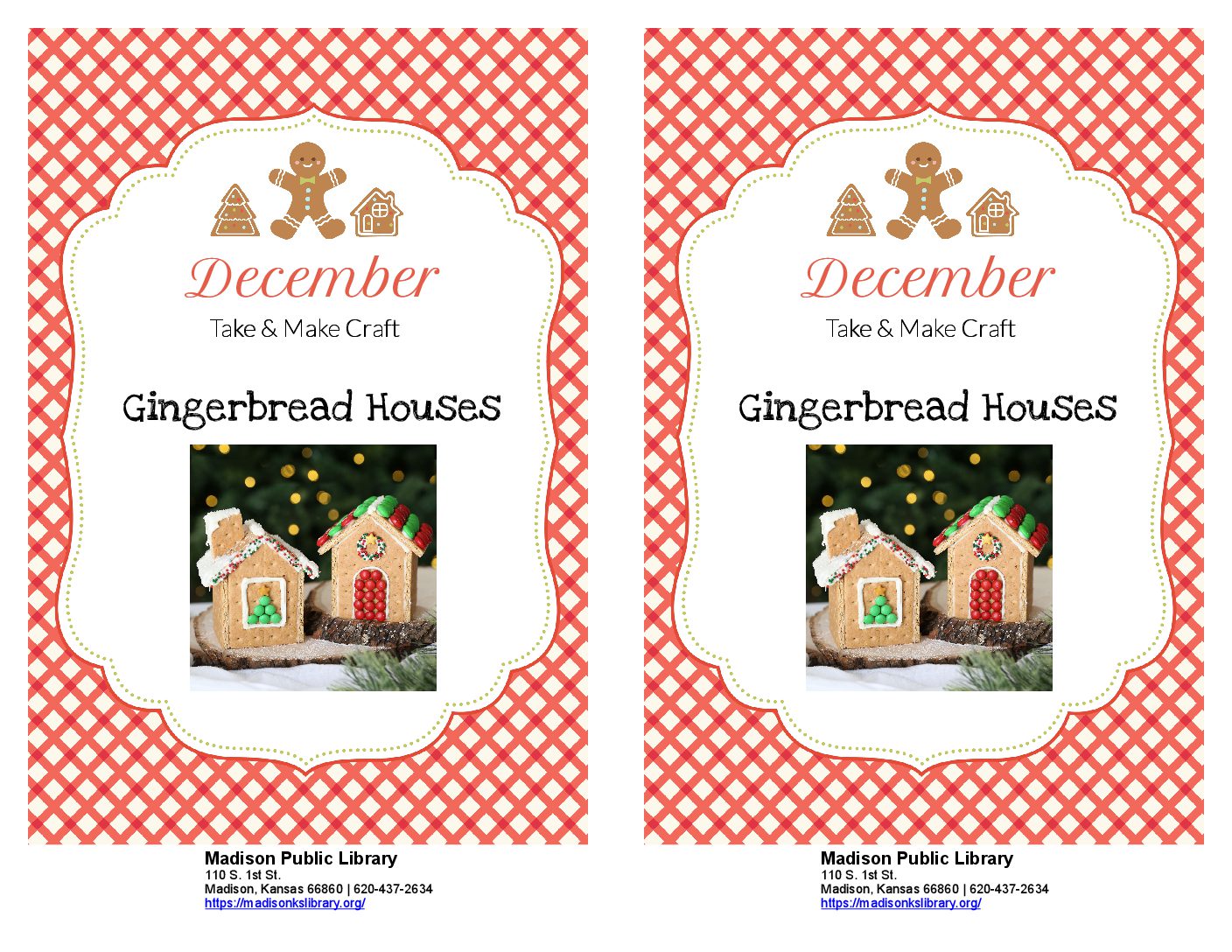 All Month: Take & Make Craft - Gingerbread Houses
Grab a take and make craft bag in the library foyer. Get your's before they are gone!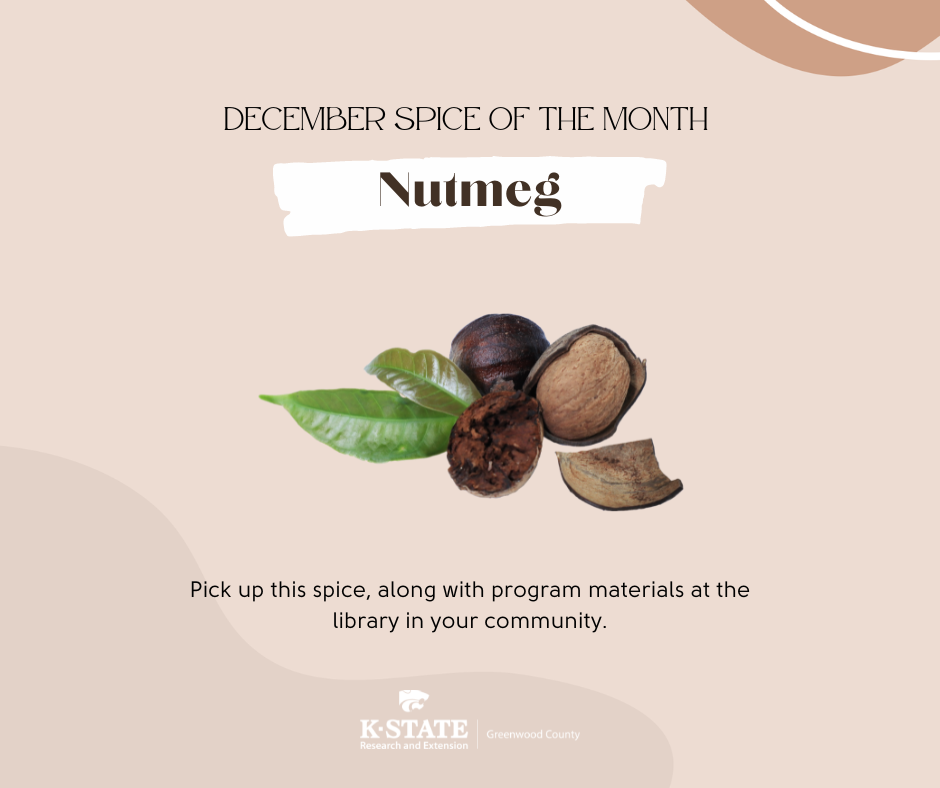 All Month: November Spice of the Month - Nutmeg
Stop by the library to pick up your spice packet. Packet includes 2 recipe cards, a history of the spice and enough spice for those 2 recipes.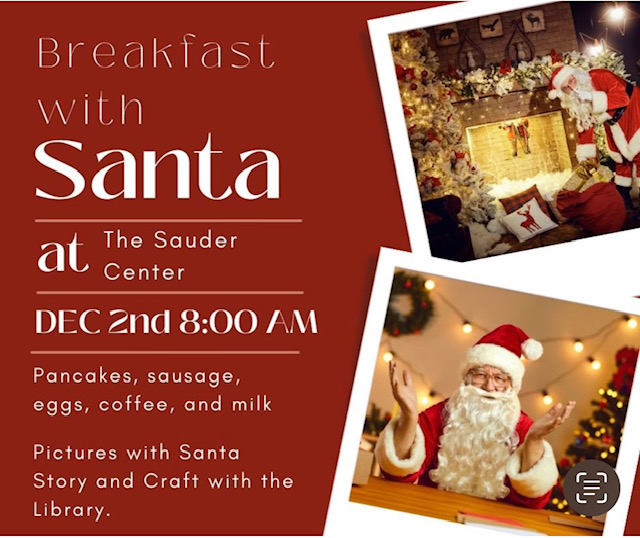 December 2nd: Breakfast with Santa 8am -11am
Ho Ho Ho! It's time for breakfast with Santa! Grab some breakfast in the Sauder Center from 8am to 11am and then stop by the library for a Christmas storytime and craft.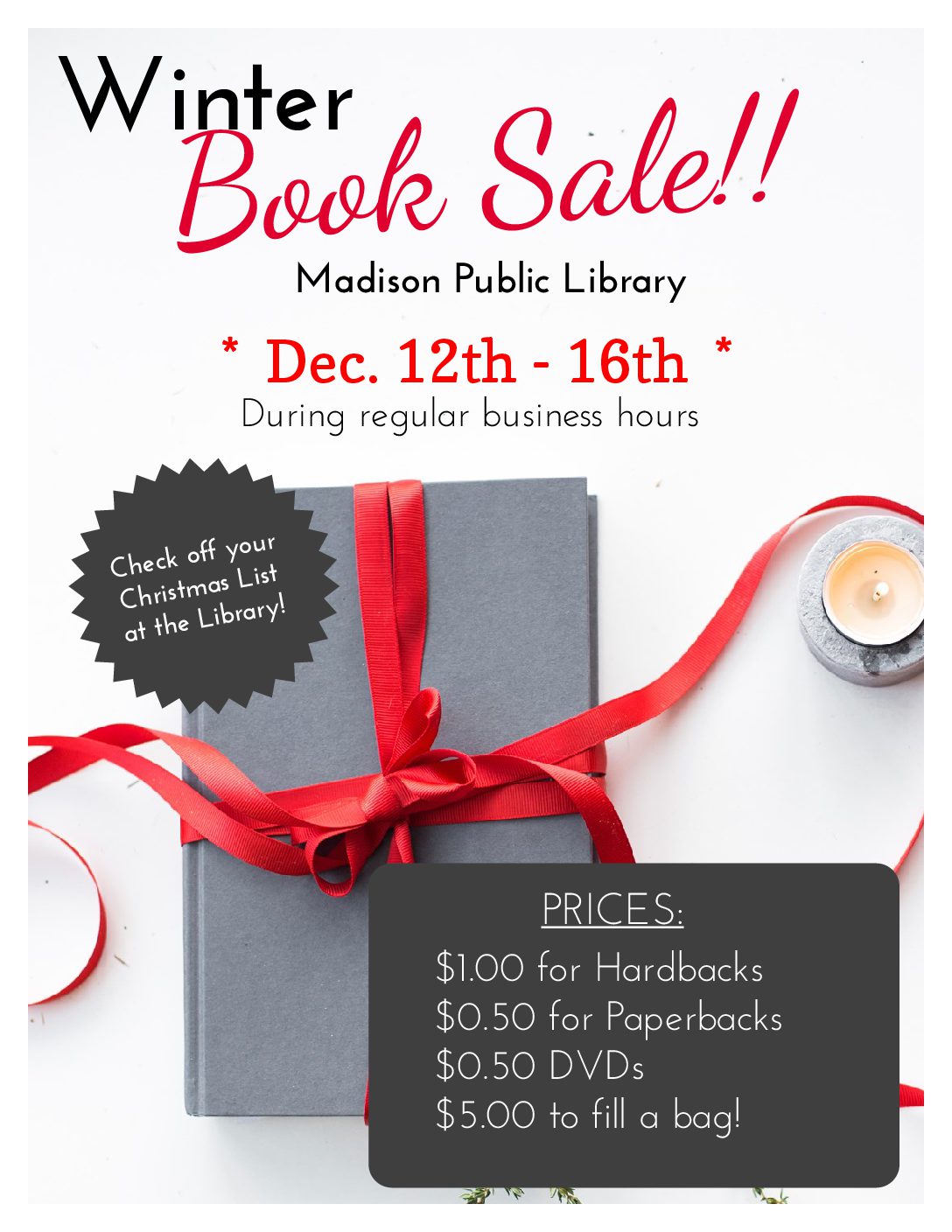 December 12th - 16th: Winter Book Sale @ the Library!
What could be better than books for Christmas?! Stop by the library during normal business hours Dec. 12th – 16th.
$1.00 for Hardbacks, $0.50 for Paperbacks, $0.50 for DVDs and $5.00 to fill a bag of books!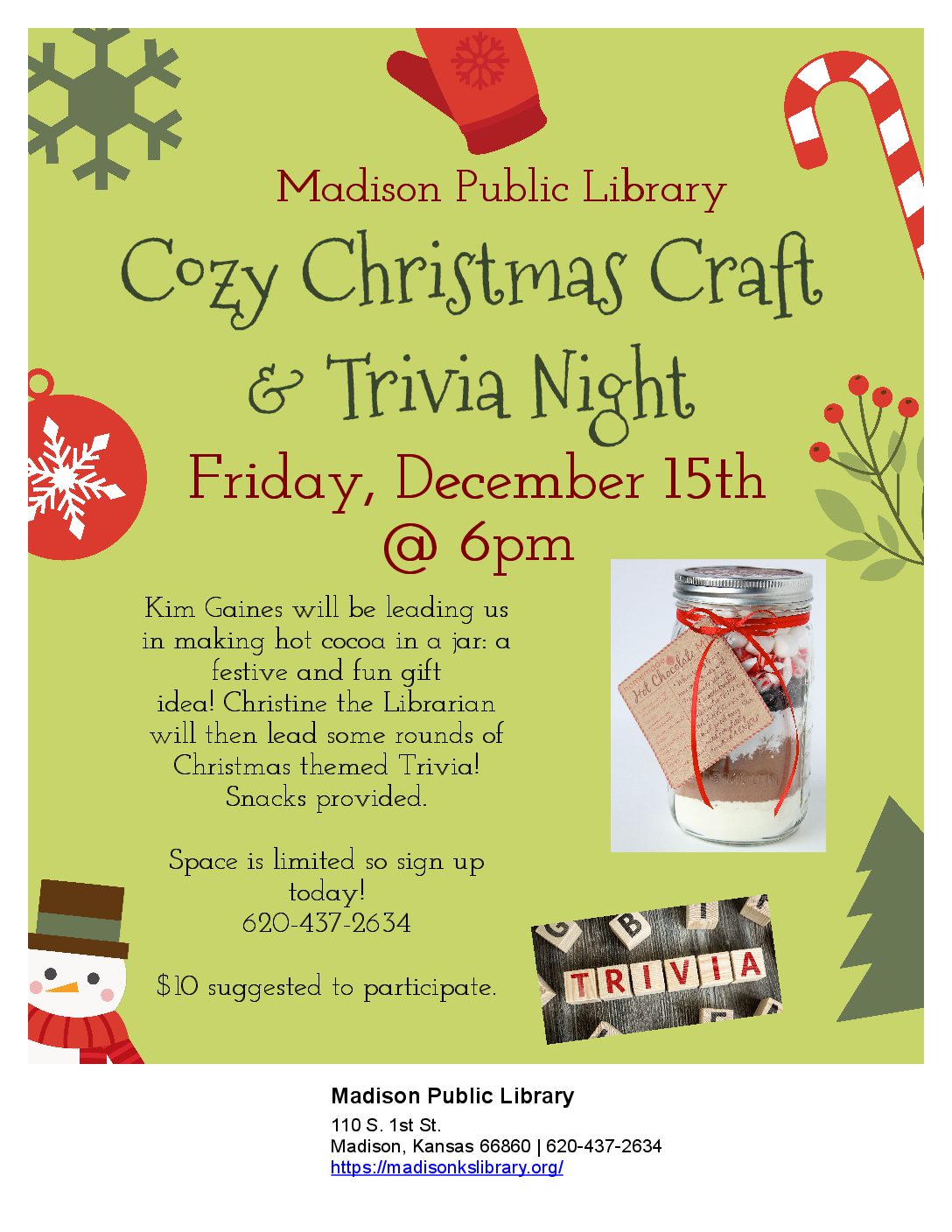 November 15th: Christmas Craft & Trivia Night @ 6pm
Join us as we make hot cocoa in a jar – a festive and fun gift idea! We will then have some rounds of holiday themed trivia. Snacks will be provided. Space is limited so sign up today: 620-437-2634. $10 suggested to participate.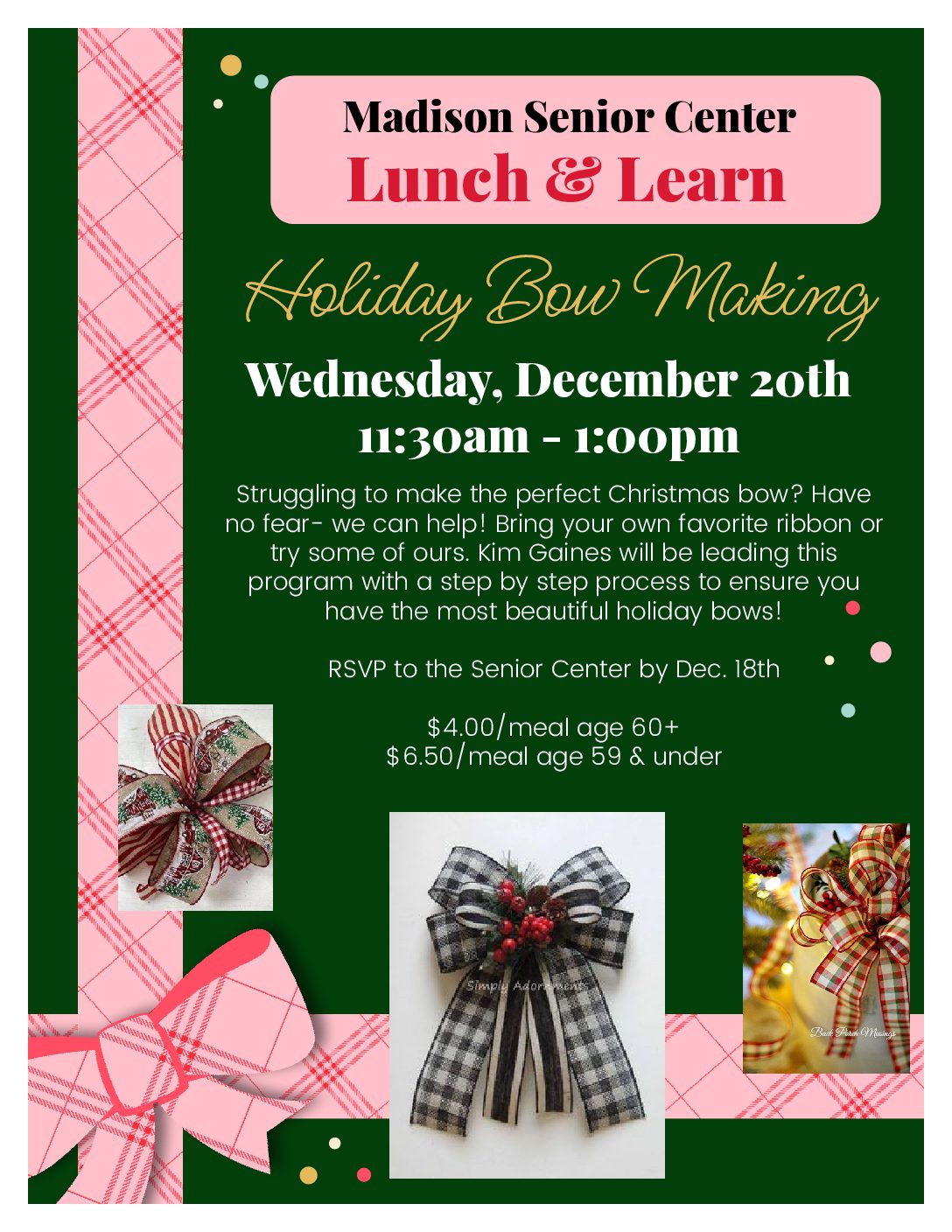 December 20th @ 11:30 at the Madison Senior Center: Lunch and Learn Program on Holiday Bow Making
Struggling to make the perfect Christmas bow? Have no fear – we can help! Bring your own favorite ribbon or try some of ours. Kim Gaines will be leading this program with a step by step process to ensure you have the most beautiful holiday bows! 
Please RSVP to the Senior Center by Dec. 18th @ 620-437-2696
$4.00/meal age 60+
$6.50/meal age 59 & under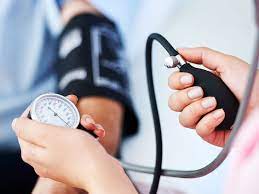 December 20th (during Lunch & Learn) Free Blood Pressure Checks at the Madison Senior Center @ 11:30am
Stop by during our Lunch & Learn program to get your blood pressue checked by a member of the Newman Regional Health Community Care Team.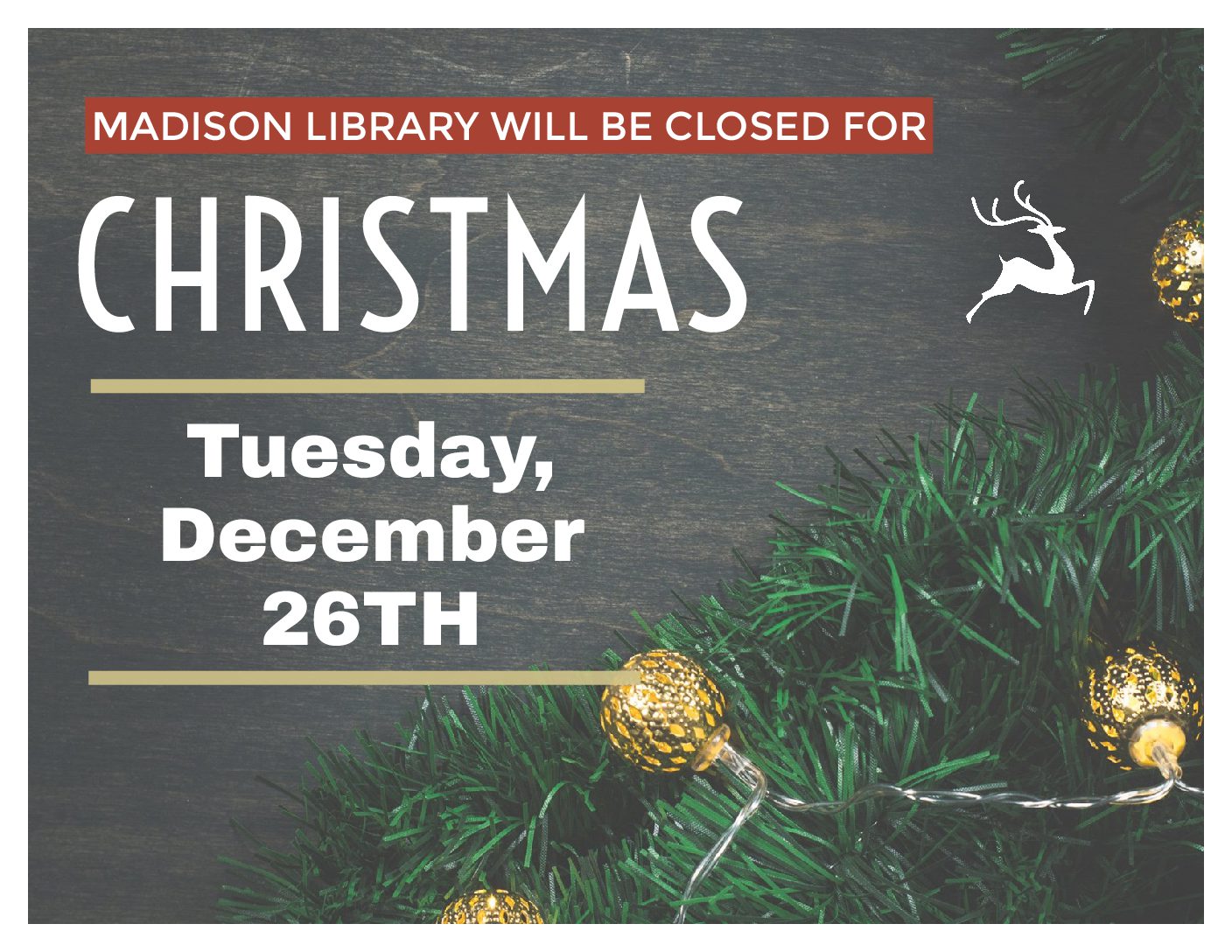 Tuesday December 26th: CLOSED FOR CHRISTMAS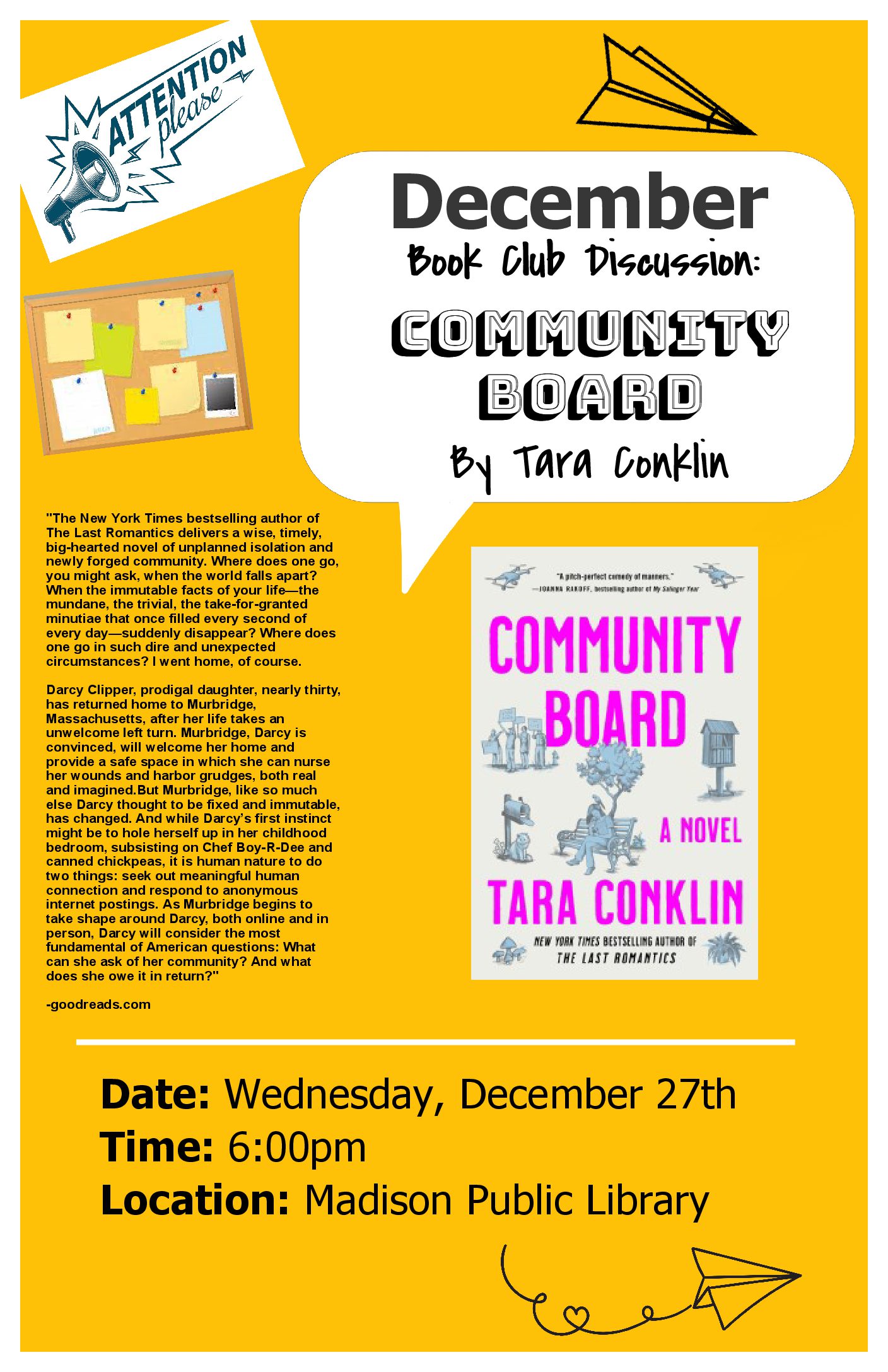 December 27th @ 6pm: December Book Club Discussion: Community Board: A Novel by Tara Conklin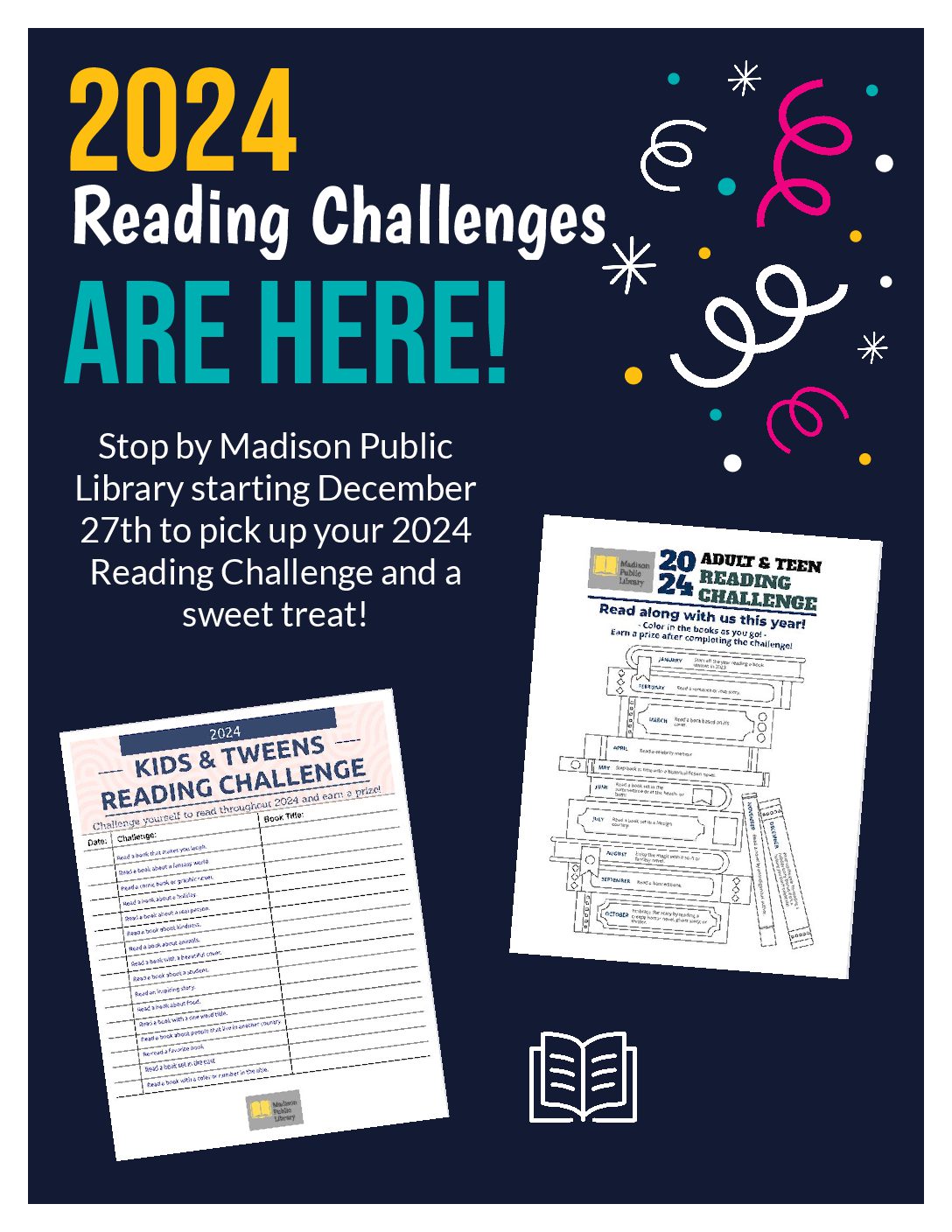 Beginning Dec. 27th - pick up your 2024 Reading Challenge and get a sweet treat!
Celebrate the new year with a new reading challenge. 2024 Reading Challenges will be available for all ages. Grab yours and a sweet treat, too!
Weekly Programming:
Coffee, Craft & Chat for Adults: Weds & Fri @10:00am
Wee Wigglers Story Time: Preschool focused story time on Thursdays @ 10:00am
Afterzone Activity with USD #386 students: Fun STEAM and reading centered activities at the library during warmer months, and at Madison Elementary during colder months. Thursdays during the school year @4:00pm
Monthly Programming:
Lunch & Learn @ the Madison Senior Center: 3rd Wednesday of the month at 11:30am
Madison Book Club: Monthly discussions on the last Wednesday of the month at 6:00pm
Take & Make Craft for Kids: a different craft is bagged up each month and located for pick up at the front entrance
NEW in 2023: Discover Your Next Chapter with Greenwood County Libraries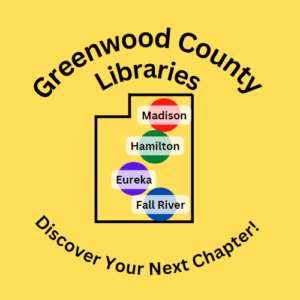 Spice of the Month: Register at the library and stop in monthly to recieve a different spice, 2 recipes and a brief history of the spice. Brought to you by a Dream grant funded by SEKLS
Passport Bingo: Pick up a Greenwood County Library Passport with 16 squares of activities to complete PLUS 4 bonus activities for further exploring. Fill out to win a prize!
Reading Challenge: Pick up a 2023 Reading Challenge sheet at any Greenwood County Library. Challenges are separated into Adult, Tweens & Teens and Children up to age 10. Fill it out by the end of 2023 to win a prize!
One County One Read: Pick up a copy of  by David Grann. Join in our County Wide Book Discussion to be entered to win free movie tickets! Starts Spring 2023.
Tiny Art Show: Pick up a mini canvas & paint set and create a work of art! Bring back to your local library to put on display. Starts Summer 2023.
Solar Eclipse: Pick up a pair of solar eclipse glasses at your local library and learn more about the Solar Eclipse of 2023! Starts in October.
Discovering a Healthier YOU!: Each library will have programming throughout 2023 focusing on bettering your physical, emotional, mental and financial health!
This project was made possible by a Dream Grant funded by Southeast Kansas Library System
What Can We Help You Find?
Madison Public Library
110 S 1st St
Madison, KS 66860
► Hours
Sunday, Monday: CLOSED
Tuesday, Wednesday, Friday: 10am - 4pm
Thursday: 10am - 5pm
Saturday: 10am - 1pm
► Phone
Email: madisonks.library@gmail.com